'23 Eddies HOF ceremony 'shows people are paying attention' to Capital Region musicians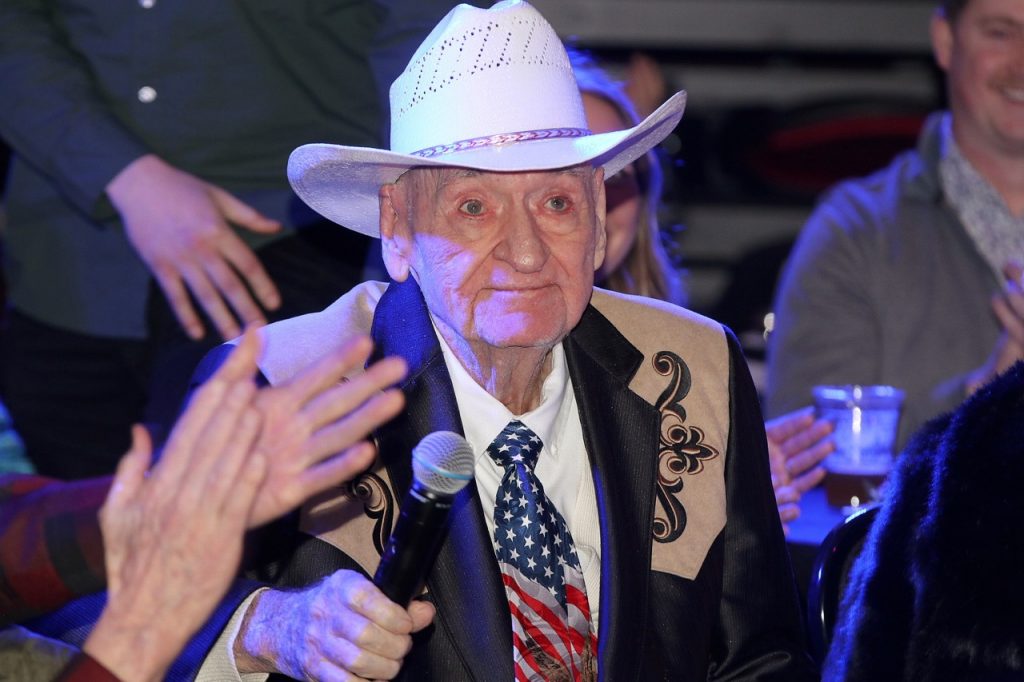 SARATOGA SPRINGS – The Capital Region Music Hall of Fame Induction Ceremony is memorable each year – not only for the depth of talent and accomplishment in the inductees gathered – but for the spirit and energy exhibited in the storytelling, celebration and musical performances. The fifth class was no exception.
Five music artists – Mike Campese, Felicia Collins, George Frayne, Smokey Greene and John Tichy – as well as photographer Martin Benjamin, educator Sister Mary Anne Nelson, CSJ and radio host and folk musician Wanda Fischer, were inducted March 27 during a two-hour ceremony at Universal Preservation Hall. Margo Macero and John Tichy performed with their bands, as well as the duo of Scott and Arline Greene, and Michael Eck. Eddies founder Jim Murphy and Eddies administrator Kelly Auricchio served as hosts. Eight videos – 4-5 minutes each – on the music career of each inductee were shown as their introduction to the stage.

Here are some of the many highlights of the evening:
Campese: 'I can't believe this exists'
Campese – with 11 solo albums to his credit and a gold record from the Recording Industry Association of America for his recording with Trans-Siberian Orchestra – was the first inducted and the Albany native was effusive in his gratitude.

"I can't believe this exists here," he started. "It's an honor because this award shows people are paying attention to musicians in the area. I've been here for years, and this is just incredible … really awesome. Thank you, Kelly and Jim. I'm blown away and I appreciate it. It just means a lot to me. I truly believe if you play outside the area and do international kinds of things and you work hard, your local town will recognize that."
Macero 'killed it'
Macero – introduced by Murphy as a prospective member of the next generation of Eddies Hall of Famers – had the unenviable task of performing a song by Collins of "Late Show With Dave Letterman" fame to close the show. Collins was effusive in her praise of Macero for an electric performance. "Thank you, baby," she said to Macero when she came to the podium. "Wow. …First of all, that was awesome. Margo killed it. I tell you, you gotta frame that guitar 'cause you got some serious chops. And you need to play that thing loud."
Murphy later reported that an Eddies Hall of Famer from a previous year, while brainstorming with Murphy on future Eddies event performers a few days after the show said, "I think you just hire Margo Macero for everything!"
Letterman connection revealed
Murphy also told a Letterman story from early in his career to bring home a point before he invited Collins to the stage.

"Fans of the NBC era 'Late Show With David Letterman' might remember a standing skit he did called 'Brushed by Greatness,'" he started. "This is a quick full-circle story on my brush with greatness via the Letterman show and tonight's final inductee, Felicia Collins."
While working at a small daily newspaper in Wellsville, Murphy found himself swapping stories with his editor about famous people they and their families had encountered. For instance: The editor worked on a summer paint crew with a future Dallas Cowboy star. And Murphy's mother was once at a dinner party with the speaker of the US House of Representatives, Sam Rayburn, when he pulled out the tablecloth from under a set table at a D.C. restaurant. They put several stories they had, as well as those from fellow staffers, into a piece for the paper called "Touched by Greatness." Eventually the effort was brought to the attention of Letterman show producers and a few months after the column was published, they got a call from one asking a few questions, and a heads up with a date that Letterman would introduce the bit to America.

"This was the era before celebrity TV, comic cons and concert meet-and-greets … most Americans never met a so-called star, and if they did, well, social media hadn't been invented so they couldn't share the experience," he continued. "It was so popular that it was repeated many times on the show and the idea was replicated by local radio stations across the country. It went viral before viral was a thing and thrived over the airwaves for the good part of a decade."
Then he drove home his point: "I feel 'Brushed by Greatness' every time we have a Hall of Fame dinner. We're celebrating remarkable careers by truly remarkable individuals … and the best part is they have been and/or are presently in our midst, a part of our community. Individually and collectively their contributions to the music scene are impactful. They deserve to be celebrated."
Who's eligible? Isn't it obvious?
Discussing Hall of Fame eligibility Murphy laid out the criteria early in the evening, adding, "With the Eddies Hall of Fame Class of 2023, it's like the old adage: 'You know it when you see it.' There is no mistaking the fact that everyone in this class has clearly demonstrated influence and impact in their respective spheres and has long-standing ties to the region."
In the shadow of their fathers
Three artists performed work honoring their dads who were being inducted: Scott and Arlin Green for their father, 93-year-old bluegrass legend Smokey Greene, and Graham Tichy for his father John (as well as Tichy's bandmate in Commander Cody and the Lost Planet Airmen, George Frayne).

Graham Tichy, with a large video screen behind him while readying to perform with his band, observed, "This will be different. I've never performed when my dad's head was behind me, so I just don't know what to say."

Smokin' up the charts … for a half minute
Commander Cody and the Lost Planet Airmen had a Top 10 hit in "Hot Rod Lincoln" with Frayne on lead vocals, but it was the band's 1973 single "Smoke! Smoke! Smoke! (That Cigarette)," a cover of swing artists Merle Travis' and Tex Williams' song, that Tichy reminisced in his acceptance speech could have brought him a little bit of fame and fortune.
"We had a big hit with Hot Rod Lincoln," he started, "and of course, as everybody knows, you gotta follow up (a hit) with something even better. And we picked (Smoke!) and it rose up the charts, 85 with a vote, 62 with a bullet, 55 with a bullet, 45 with a bullet. Oh, damn. So close."

"I could have been a big star if that had kept on going," he laughed. "I wouldn't have been here in the Capital Region. I'd have been in Hollywood, starlets on my left, starlets on my right. But here I am. My wife (Dee) is laughing, but here I am. And I couldn't be happier with my life."
A changed man
Tichy also spoke briefly about a transformation in Frayne from his Commander Cody days to his life in the Capital Region, having moved from California to Saratoga Springs in the 1990s. "He was, how can I say it judiciously, a kind of an eccentric character, a wild and crazy guy. Untamed.
"He was the last person that I would ever have seen to become a gentle, caring family man," he continued. "And he moved to Saratoga; I think the main reason was his wife Sue had some family here. She had a daughter by previous marriage that he in effect adopted, and he became a proud father of Sophie. And he became a dear friend and just a wonderful person all around. If people had known him in 1975 (and predicted) that guy is gonna turn into a wonderful person, you know? No way."
Finding family
Murphy said in his introduction of Nelson that he learned during preparing this year's show that she was a relative … a first cousin, once removed, on his father's side of a rather large Irish family. He said there was visual evidence she was family when he visited her home: On her end table were two books that sat on his end table: A novel in the Harry Bosch detective series by Michael Connolly and "How Music Works" by David Byrne.

Nelson brought several members of her College of St. Rose family – students from the school where she taught for 49 years – as well as Sisters of St. Joseph to the event.

The 'rich culture' of the Capital Region
Collins was quick to embrace her fellow classmates, reaching out to Greene through social media several weeks before the ceremony to say they shared the same birthday (March 10) and wish him a happy day.

Her appreciation for her Hall of Fame classmates and the Capital Region continued in her acceptance speech.

"I grew up on here in this area and loved me for anywhere else in the world," she started. "Something about the vibrations here, whatever was artistic that existed inside my DNA was nurtured and fed and kept healthy and helped to flourish right here because of the unique soulfulness and funkiness of this area where I was raised. A rich culture of earth-shaking art is cultivated right here."

"There are many individuals with talent beyond measure here, including my fellow inductees tonight. It fills my heart to be here this evening amongst them. I'm humbled, I'm thankful and honored to be included in the same space and conversation of these talented individuals. It is profound. Thank you."
Photographer's Bono moment
The uninitiated might have wondered when walking into UPH's Great Hall why a large number of photographs of mostly rock stars were rotating on a 24-foot-wide movie screen before an event honoring members of the local music community. Each image of Sting, Bruce Springsteen, David Bowie, Tina Turner and dozens of others were taken by Benjamin, who took the photos at venues in the region over the past 40-plus years.

An inspirational moment in Benjamin's video introduction is when Bono called him onto the U2 tour bus early in their career to remark on the photographer's intimate image of a woman gently kissing the arm of a person who's not in the frame. Benjamin relayed what Bono said, "This picture is what U2 is trying to do with their music. We don't think we are there yet. But you are."
Making money making art
Nelson drew laughs from the audience when she asked a room full of people who work in the music industry: "How do you make money making music? Any musicians here?"

The she got serious and offered an observation the audience understood too well. "It's tough, but it's something you can't live without, and you learn to live with living without."
Having spent 49 years as an educator, founding and heading the College of St. Rose's Music Industry program teaching students the skills to make a living as artists and technicians in the field, she offered: "People need music; that's never going fade away. It's not going to go out of style. So, there's always going be a need for people who make popular music. And there's always going to be a need to students that can make that kind of music, who can do the performance, create the charts of the arrangements, and then, others who can be in the room and make it all come together and sound good."
Thanking the village
Each inductee thanked mentors, teachers, family and friends. Fischer was no exception, expressing gratitude for several people including her husband John, who has been home doing laundry every Saturday night for over 40 years while she hosts her WAMC-FM/Northeast Public Radio's weekly "The Hudson River Sampler" show featuring folk music.

"Hillary Clinton said it takes a village," she said in closing. "She's so right. This village, this folk music community, this music, this music environment, it's not just a folk environment, it's a music environment that paved the way for me to be here tonight. This is my village."

A man of few words
The 93-year-old Greene's acceptance speech was less than 30 seconds, but he was name checked often during the evening by other inductees. Fischer, for instance, said she grew up listening to the same kind of bluegrass music "Smokey likes" at Hillbilly Ranch in Boston, as that was a favorite venue of her parents. She credited that experience with establishing her future career as a folk musician and radio disc jockey.