Buggy Jive, Worthley take top Eddies honors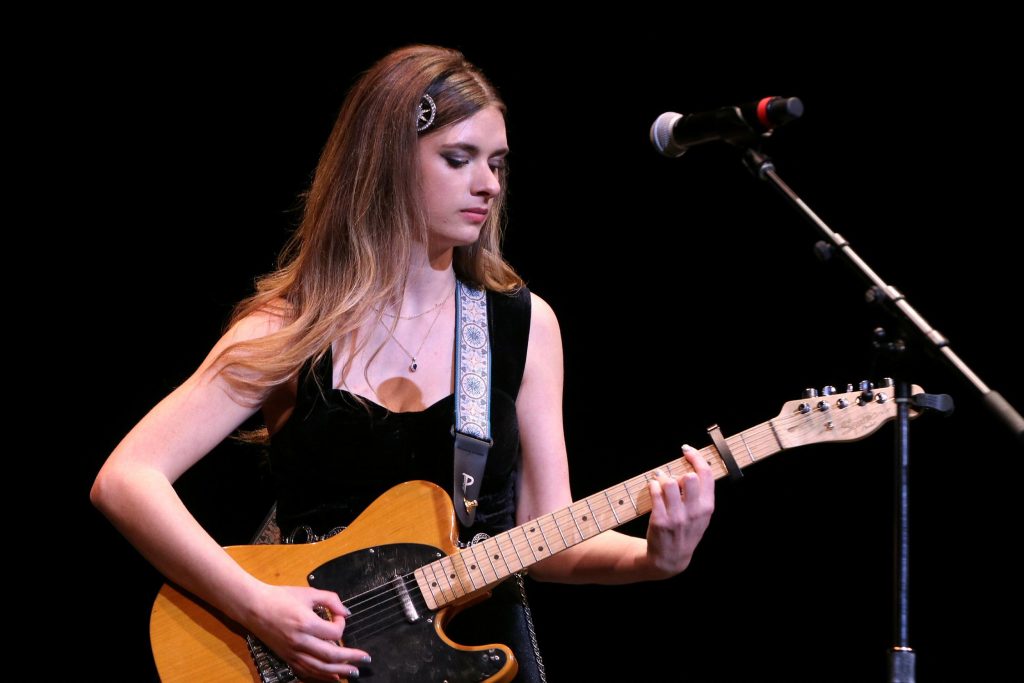 Joe Putrock photo: Sydney Worthley performs during the 2023 Eddies Music Awards.

SCHENECTADY – Soul rock singer-songwriter Buggy Jive took home both the Video and Album of the Year honors at the 5th annual Capital Region Thomas Edison Music Awards Sunday night at Proctors, and indie pop artist Sydney Worthley received Record of the Year. 
Other big winners at the ceremony were Frank Cavone of Mirth Films who took home three awards, and WEXT and Albany Symphony which each received two.
The Eddies Music Awards are adjudicated by individuals who are active in the local music community and administered by Proctors Collaborative.
"In the first five years, we have had over 450 different individuals, bands and organizations nominated, some multiple times, for a total of 950 finalists," said founder/ co-producer Jim Murphy. "There is a pre-party each year for the nominees. There is an annual Eddies Music Hall of Fame event. We featured over 45 artists performing at our events. All of it exists as a vessel for the music community to come together and celebrate."
Since 2021, Eddies judges have also singled out individuals and organizations whose contributions to the music community don't fit neatly in a traditional category. Merit award winners this year were:
· Family Tree, a collective of five musicians (Steve Candlen, Chris Carey, Lori Friday, Kenny Hohman, Chad Ploss) that invite musical guests from the region to participate weekly at their 18-month-and-counting Monday night residency at Putnam Place in Saratoga.
· "Courtyard Sessions" by Mirth Films, a 26-episode mini-concert video series featuring local musicians.
· Instruments for Students, a program of the Vanguard, a support organization of the Albany Symphony, which has collected hundreds of musical instruments through the years, donating them through schools to families who cannot afford to rent or own their own instruments.
Here are the 2023 Capital Region Thomas Edison Music Awards recipients:
Live Production Crew of the Year
Mirth Films
Presenter/Promoter of the Year
Caffè Lena – Sarah Craig
Music Recording Studio of the Year
Overit Studios
Record Label of the Year
Cacophone Records
Music Journalist of the Year
Michael Hochanadel
Music Photographer of the Year
Frank Cavone
Arts Publication of the Year
Nippertown
Radio DJ of the Year (terrestrial or streaming) of the Year
Chris Wienk (WEXT)
Radio Station of the Year
WEXT
Classical Artist/Ensemble of the Year |
Albany Symphony Orchestra
World Music Artist of the Year
Alex Torres & His Latin Orchestra
Jazz Artist of the Year
Joe Barna
Electronica Artist of the Year
Architrave
Punk/Hardcore Artist of the Year
BattleaXXX
Metal/Hard Rock Artist of the Year
The Clay People
Merit Award
Family Tree
Steve Candlen, Chris Carey, Lori Friday, Kenny Hohman, Chad Ploss
Merit Award
Courtyard Sessions
Mirth Films
Merit Award
Instruments for Students
Vanguard – Albany Symphony Orchestra
R&B/Soul/Funk Artist of the Year
Victory Soul Orchestra
DJ of the Year
DJ Hollyw8d
Hip Hop/Rap Artist of the Year
|B. Chaps & Freedom Stratton
Country/Bluegrass Artist of the Year
Jim Gaudet and The Railroad Boys
Country Cover Band of the Year
Stony Creek Band
Americana Artist of the Year
Reese Fulmer & The Carriage House Band
Folk/Traditional Artist of the Year (tie)
Drank The Gold
Folk/Traditional Artist of the Year (tie)
Michael Eck
Alt/Indie Artist of the Year
The Sea The Sea
Jam Band of the Year |
Annie in the Water
Blues Artist of the Year
Nite Train with Thomasina Winslow
Party Cover Band of the Year
Off The Record
Solo or Duo Artist of the Year (Originals)
Sirsy
Solo or Duo Artist of the Year (Covers)
Steve Candlen
Rock/Pop Artist of the Year
Super 400
Songwriter of the Year
Girl Blue
Music Video of the Year
Buggy Jive – "Encyclopedia Black and the Case of You"
Record of the Year
Sydney Worthley – "How Soon Is Now?"
Album of the Year
Buggy Jive – "The Ghost of Alexander"