Longtime radio broadcaster, Wanda Fischer, to enter second hall of fame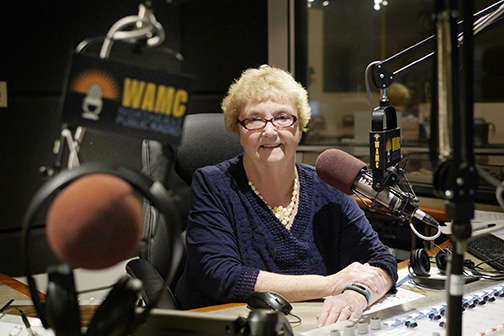 SCHENECTADY — Wanda Fischer has spent over 40 years broadcasting folk, bluegrass and blues music to radio listeners. After a stint volunteering with WCUW in Worcester, Massachusetts, she became host of WAMC-FM/Northeast Public Radio's weekly "The Hudson River Sampler" show in 1982. Her show has continued on the airwaves every Saturday night since.
"We put this out so the listeners can hear some of the greatest folk music," she said.
Fischer was inducted into the Folk Alliance International's Folk DJ Hall of Fame in 2019 and will be inducted into the Capital Region Thomas Edison Music Hall of Fame on March 27 at Universal Preservation Hall in Saratoga Springs. Tickets are available at universalpreservationhall.org.
Along with her love of music, Fischer is a published author and photographer. The arts have always been an important aspect of her life.
"I think that you really have to have a sense of the arts and how they all work together. So when I'm doing things, when I'm even putting songs together on the radio, I'm very conscious of how things fit together. And sometimes it's the lyrics and sometimes it's the music, and sometimes it's just a concept. I think that they all work together," she said.
Fischer's living room is filled with hundreds of CDs and records. And Red Sox memorabilia.
Even though she has lived in the Schenectady area since 1979, Fischer still describes herself as a Bostonian and life-long Red Sox fan. She was given the opportunity to call a Red Sox game in. 2012 as a "Guest in the Chair."
"They were basically having people from media and sports announcing come in and be the public address announcer for one game…. So, I'm in the doctor's office, and my cell phone rings, and I looked down and it says, Boston Red Sox. I said to the doctor, I gotta take this! They said, we Googled you and we found out that you're for real, so we'd like for you to come and do a game," she said.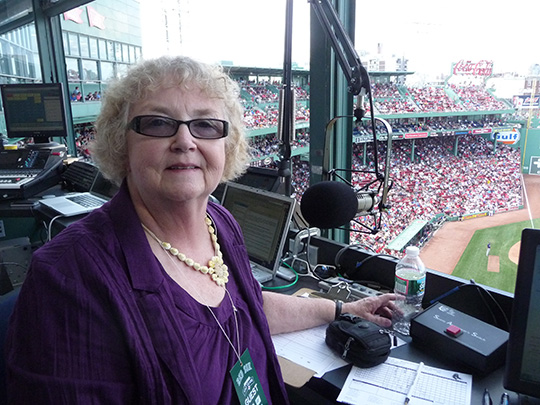 "It's a lot of work. But that was one of the big deals being a Red Sox fan. They were terrible that year. … But it was a lot of fun! I got to meet some really great people up there."
Her love of baseball inspired her to write a coming-of-age sports novel, "Empty Seats" in 2020. Fischer is also a published photographer; some of her photos can be seen in the book "Smiling Banjo – A Half Century of Love and Music at the Philadelphia Folk Festival."
Fischer is also a folk singer/songwriter. She has released one CD, "Singing Along with the Radio." She said she doesn't play her music on the radio unless someone requests to hear it.
She has other athletic interests. Fischer began playing competitive tennis at the age of 32 and continues to participate nationally in United States Tennis Association events today.
The Capital Region Thomas Edison Music Hall and Universal Preservation Hall are part of Proctors Collaborative.