Nominations Announced for Fifth Annual Capital Region Thomas Edison Music Awards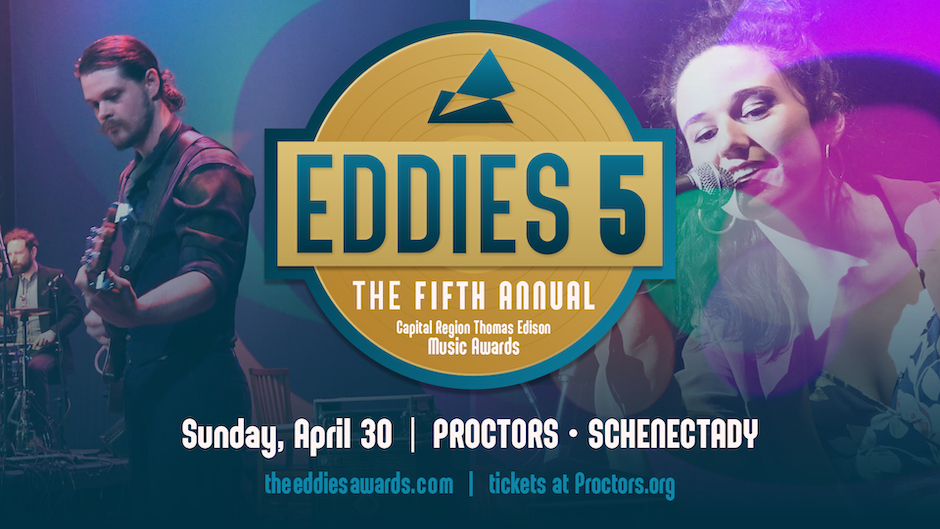 SCHENECTADY (March 29) – Soul-rock singer-songwriter Buggy Jive leads all nominees in the fifth annual Capital Region Thomas Edison Music Awards with four nominations of his own.
Six artists have three nominations: Brick By Brick, Jim Gaudet & The Railroad Boys, Jocelyn & Chris, Michael Eck, Reese Fulmer & The Carriage House Band and Sydney Worthley. In all, 209 artists and organizations have been nominated in 33 categories.

The annual ceremony is 6 p.m. Sunday, April 30 on the MainStage at Proctors. Tickets are available now at proctors.org. A slate of performers will be announced in mid-April.
In addition to the finalists in the categories below, several honorees will be announced in the Merit Award category. "These are recognizing unique initiatives led by members of the music community in the recent past that don't fit neatly into any other category," explained Jim Murphy, Eddies Music Awards producer and founder. Judges–members of the 518-music community nominate and vote on all recipients annually.
With this year's ceremony, more than 450 different individuals, groups and organizations have been nominated in the Eddies' first five years. In addition, the Eddies have established a regional music Hall of Fame at Universal Preservation Hall in Saratoga Springs. Eight were inducted in a two-hour ceremony March 30: Martin Benjamin, Mike Campese, Felicia Collins, Wanda Fischer, George Frayne, Smokey Greene, Sister Mary Anne Nelson, CSJ and John Tichy.

"We're most proud of that track record," said Murphy. "Our mission is to shine a light on as many people as possible; we've inducted 32 individuals into the Eddies Music Hall of Fame and have seen roughly 45 artists perform at our events. If you include the members of the bands and the staff of the organizations that have been nominated, it represents several thousand individuals."
New this year is an Eddies Advisory Council, created late last year, that will meet 5-6 times annually with Murphy and Eddies administrator Kelly Auricchio. Members from the music community are Julia Alsarraf, Greg Bell, Wanda Fischer, Andy Gregory, Mario Johnson, Jason Keller, Pete Mason, Matt Mac Haffie, Kevin McKrell, Keith Morales, Steve Nover, Truemaster Trimingham, Al Quiglieri, Paul Rapp, Zan Strumfeld, Alex Torres, Chris Wienk and Don Wilcock. Murphy adds that blues artist Thomasina Winslow, who passed away Jan. 13, was an inaugural council member. "She was very supportive of the Eddies Music Awards and remains in our thoughts."

The Eddies Music Awards and Hall of Fame are an initiative of Proctors Collaborative. More information at theeddiesawards.com.

The 2023 Eddies Music Awards nominees:
Electronica Artist of the Year
Architrave
Fox Kraft
PJ Katz
Sara Ayers
SM Ink
soo do koo
So.RY
Punk/Hardcore Artist of the Year
BattleaXXX
Blasé' DeBris
Brick by Brick
Prince Daddy & The Hyena
Wrong Move
Zombie Giuliani
Metal/Hard Rock Artist of the Year
Black Tongue Reverend
Deveria
Malefic
Reprise
The Clay People
The Erotics
Live Production Crew of the Year
Aces
Denis Entertainment Group
High Peaks Event Production
Mirth Films
Record Label of the Year
Ah! DucK! Records
Cacophone Records
Equal Vision
Lorchestral Recording Company
Rose Record Label Group
Upstate Records
Music Recording Studio of the Year
Bender Studios
Don Fury Studio
Fool's Hill Music
Jim Mastrianni Studio
Overit Studios
Polymouth Music
Presenter/Promoter of the Year
Caffè Lena – Sarah Craig
Capital Region Classical – Derek Delaney
Eighth Step – Margie Rosenkranz
Music Haven Concert Series – Mona Golub
The Linda – Peter Hughes
Upstate Black N Blue Productions – Michael Valente
Radio Station of the Year
Capital Underground Radio
WAMC
WCDB
WEQX
WEXT
WRPI
Radio DJ of the Year
Andy Gregory
Bill McCann
Chris Wienk
Jason Irwin
Pearson Constantino
Rob Smittix
Wanda Fischer
Arts Publication of the Year
Nippertown
NYS Music
Preview (Times Union)
The Spot 518
The Xperience Monthly
Ticket (Daily Gazette)
Music Journalist of the Year
Alain Clerine
Don Wilcock
Indiana Nash
Jim Shahen Jr.
Joseph Dalton
Michael Hochanadel
Music Photographer of the Year
Amy Klemme
Frank Cavone
Jarron Childs
Jim Gilbert
Rudy Lu
Stephanie Bartik
Classical Artist/Ensemble of the Year
Albany Symphony Orchestra
Andre Laurent O'Neil
Musicians of Ma'alwyck
Opera Saratoga
Schenectady Symphony Orchestra
Sophia Subbayya Vastek
World Music Artist of the Year
Alex Torres & His Latin Orchestra
Ally the Piper
David Macejka
Heard
Jordan Taylor Hill
Sten & Maria Z.
R&B/Soul/Funk Artist of the Year
Buggy Jive
Garland Nelson
Kyla Silk
Sly Fox and the Hustlers
The E-Block
Victory Soul Orchestra
DJ of the Year
DJ BOYBOY
DJ Hollyw8d
DJ Ketchup
DJ RVMBA
DJ Trumastr
Party Cover Band of the Year
Diva & The Dirty Boys
Funk Evolution
Mike and the Monsters
New York Players
Off The Record
The Accents
Hip Hop/Rap Artist of the Year
B. Chaps & Freedom Stratton
Camtron 5000
MR. Every Day (Every Knowles)
92'RioT
Shyste
Tony Louie
Americana Artist of the Year
María Riccio Bryce
Michael Francis McCarthy
Reese Fulmer & the Carriage House Band
Sara Milonovich & Daisycutter
The McKrells
The North & South Dakotas
Solo or Duo Artist of the Year (Originals)
As Iz
Gail Sparlin
Michael Eck
Peter Annello
Sean Rowe
Sirsy
Solo or Duo Artist of the Year (Covers)
aCoustiK
Carmen Lookshire
Jeff Brisbin
Maurizio Russomanno
Steve Candlen
Travis Gray
Jazz Artist of the Year
Bright Dog Red
Chuck Lamb
Hot Club of Saratoga
Joe Barna
Keith Pray
Marcus Benoit
Matt Niedbalski
Jam Band of the Year
Annie in the Water
Glass Pony
Hilltop
Otobo
Timbre Coup
T.V. Doctors
Blues Artist of the Year
Amy Ryan Band
George Fletcher Blues Band
Mark Tolstrup & Jill Burnham
Nite Train with Thomasina Winslow
Rich Ertelt and Blues Express
Rory Block
Country/Bluegrass Artist of the Year
Dyer Switch Band
Jim Gaudet and the Railroad Boys
Mark T. Jones
Marty Wendell
The BlueBillies
The Insolent Willies
Country Cover Band of the Year
Beatin' the Odds
E.B. Jeb
Red Haired Strangers
Skeeter Creek
Stony Creek Band
Whiskey Highway
Rock/Pop Artist of the Year
Canella
E.R.I.E.
Jocelyn & Chris
Joe Mansman and The Midnight Revival Band
Super 400
Sydney Worthley
Alt/Indie Artist of the Year
10:01
Blue Ranger
Doctor Baker
Gracies Paris
Side-B
The Sea The Sea
Folk/Traditional Artist of the Year
Cosby Gibson & Tom Staudle
Dan Berggren
Drank The Gold
John Kirk & Trish Miller
Keanen Starks & Orion Kribs
Michael Eck
Songwriter of the Year
Buggy Jive
Dan Berggren
Gail Sparlin
Girl Blue
Jim Gaudet
Kate McDonnell
Michael Eck
Sydney Worthley
Music Video of the Year
BattleaXXX – "Top Shelf Naughty"
Brick By Brick – "The Hunted"
Buggy Jive – "Encyclopedia Black and the Case of You"
Canella – "No Escape"
Joe Mansman and The Midnight Revival Band – "Take it easy"
NEQ – "Dune Buggy"
Reese Fulmer & The Carriage House Band – "Leaving a Dream"
Sophia Subbayya Vastek – "The Seas That Made Us"
Record of the Year
Cassandra Kubinski – "Burn It Down"
Jocelyn & Chris – "Run Away"
Peter Annello – "Read The Signs"
Reese Fulmer – "Leaving a Dream"
Sawyer Fredericks – "The Golden Tree"
Sydney Worthley – "How Soon Is Now?"
The Gibson Brothers – "What a Difference a Day Makes"
Under the Den – "Hold On"
Album of the Year
Alex Torres and his Latin Orchestra – "Son 40"
Brick by Brick – "Dismal Existence"
Buggy Jive – "The Ghost of Alexander"
Glass Pony – "Nowhere Daydream"
Jim Gaudet & the Railroad Boys – "Hillbilly Rock N Roll (Straight From the Still)"
Jocelyn & Chris – "Favorite Ghosts"
Keith Pray – "HOME"
The McKrells – "Still Pickin' 2022"